All book lovers probably facing the same problem when packing for moving or going for a long period to a foreign country. It is always a dilemma: Which books to take? Will it be enough until I find a bookstore in the new place? Will that bookstore have foreign language books (especially in China)? And e-Book can be a way out, but one day you will anyway come to the point when you'll want to feel and smell printed paper book in your hands.
Calm down, it is possible in Shenyang. Usually, the biggest problem lies in finding the places which offer foreign literature. And in this article, especially for the International Book  Lovers Day (celebrated on August 9th), we will give you some bits of advice and addresses where you can find English (and not only) books in Shenyang.
Shenyang Xinhua Books Center – 沈阳新华书店
There are several Xinhua Stores in Shenyang, but we will tell you about one of them, which is located on the Middle Street. In May 2017 this store was chosen as "The most beautiful Xinhua Bookstore in China". Remarkable, isn't it? And when you get inside, you will not argue with this title. It doesn't look like a typical shop where people come just to buy a book, rather like a gallery. But you better visit it and see by yourself. Even in case, you won't find the book you were looking for, you will enjoy the time there.
地址:辽宁省沈阳市沈河区正阳街88号
Add: 98, Zhengyang street, Shenhe District, Shenyang
Opening hours: 9:00-17:00
Beifang Tu Shu Cheng – 北方图书城
There are also several locations of Beifang bookstores. Most of them have a wide choice of Chinese books, maps, learning materials, dictionaries, etc. Among all this variety you can also find English books in one of the corners, usually located where the books for the Chinese learning English. The range of the foreign literature here is not that big, but if you are starving for the paper book – you will definitely find something for yourself. There are normally many materials for those who learn Chinese as well – textbooks, dictionaries, characters writing tutorials, etc.
Add: No. 29 Shiyiwei Road, Heping District, Shenyang
地址: 沈阳市和平区十一纬路29号 
Opening hours: 9:00-17:30

Goethe Bookstore – 歌德书店
The next bookstore we want to tell you about maybe doesn't have a big variety of English books, but definitely notable among other bookstores in Shenyang. First of all, it is open 24/7, what already makes it special. It is also made in European style and once you step inside, you will find yourself in the little Europe. Small rooms, divided according to the books' genre, cozy sofas, and armchairs where you can sit with the book, small coffee bar with drinks and snacks, creaky stairs and tall book racks – all these interior details will make your hands reach for some books by themselves. It is allowed to read right there, just take care about the book you have taken. There is also a corner for kids organized and sometimes themed workshops for children are held there. Unfortunately, this store is relatively small (in comparison to other bookstores in China), and due to its popularity among Shenyangers, it is often crowded. But you can still find some English, German and French books on the second level, even though the choice is not very big. Also, from time to time owners of the store organize movie events there, where foreigners are very welcomed.
Add: No. 81, Guangzhou street, Taiyuan street, Heping District, Liaoning, Shenyang
地址: 辽宁省沈阳市和平区太原街商圈广州街81号
Opening hours: 24/7
95 (Jiuwu) Culture City – 95 文化零点书店
A new bookstore that opened not long time ago is located very close to Yuqinfu Residence – just 5 minutes walking. This store is really huge and impressive: 4 floors full of books, many sitting places where you can order a nice drink and dessert, pick a book you like and enjoy reading. Also, they have a big lecture area (maybe there're lectures taking place – let us find it out) and many places where you can join a workshop (i.e. pottery workshop, Chinese drawing and many others, where not only kids can take part but also adults). Don't miss our further articles where we want to tell you more about workshops. Unfortunately, there is no big choice of foreign literature but this place is definitely worth visiting!
Add: Jiuwu Cultural City, No. 95, Taiyuan Street, Heping District, Shenyang
地址: 沈阳市和平区太原街95号玖伍文化城
Opening hours: 24/7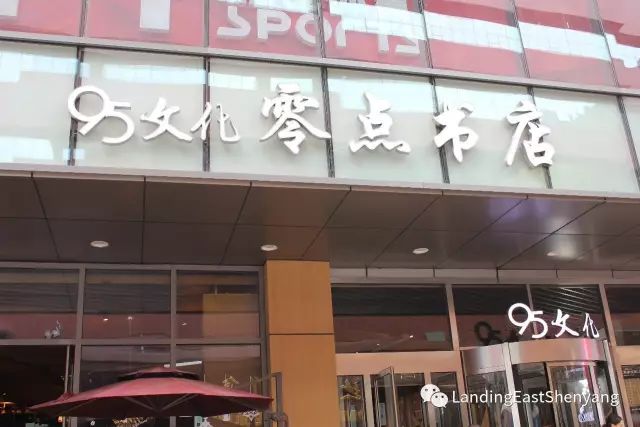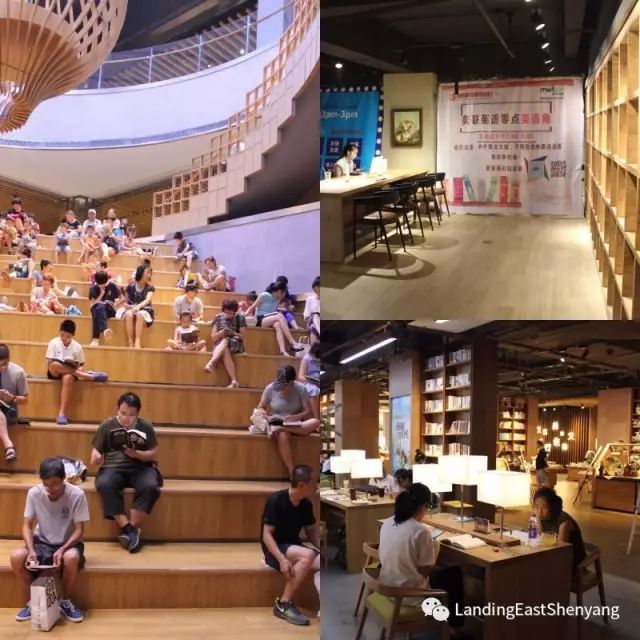 Liaoning Provincial Library – 辽宁省图书馆
For the old-school readers, the biggest library in Shenyang can also offer English books. Of course, most of them are classic, but you can also find literature about Chinese culture and history, memoirs and stories about famous people, and some copies of modern literature.
But it could be a challenge for the foreigner to sign up for the library abonnement without support. So, it is better to take your Chinese friend with you to help with this little adventure. You'd better take your passport with valid visa and some money for the deposit.
Add: No. 168, Zhihui Er Jie, Hunnan District, Liaoning, Shenyang
地址: 沈阳市浑南区智慧二街168号
Opening hours: 8:00-17:00 All year long
8:30-12:00 Every Wednesday

Antique Markets – 古玩市场
For the antique books hunters, there are some markets in Shenyang where you can find old Chinese (and not only) books. It is really impressive, what kind of books you can hunt up in the ruins of the old things, which people ready to through away as useless – old books, magazines and newspapers in English, Russian, Korean, Vietnamese, etc. Besides, you can find there crafts, statues, furniture, paintings, and calligraphy. But better not to postpone the visit to late afternoon. Most of the markets open early in the morning and sellers usually start to pack around 3 pm. It is easier to reach Antique market located here:
Add: No. 2-1, San Hao Street, Heping District, Liaoning, Shenyang
地址: 辽宁省沈阳市和平区三好街2-1号
Hopefully, our tips will help you to find interesting books and you will enjoy the time exploring Shenyang city. If you know other places, which you would recommend, please feel free to share them in the comments below. If you are not following yet our social media accounts, the links are below!
Written by Evgenia Kurz