According to Chinese beliefs, winter is the "depression" time for your bodies and minds because nights are longer than days and we don't receive enough sunlight and energy during these cold days. So, our organisms want to sleep and be passive the complete winter (just like bears). And there are so many things going on, so we do not have time for staying in bed for 3 months, right? If you don't know what I am talking about – just check our previous articles where we inform about the current possible activities in the city.
Anyway, there are some days when you do not want to leave your apartment at all. For that case, we collected for you a list of ten warm and cozy cocktails which you can easily make at home. Spend a nice evening with a favorite movie and big blanket (as an option you can invite your BF to join you) and one of these delicious cocktails.
1. Mulled Wine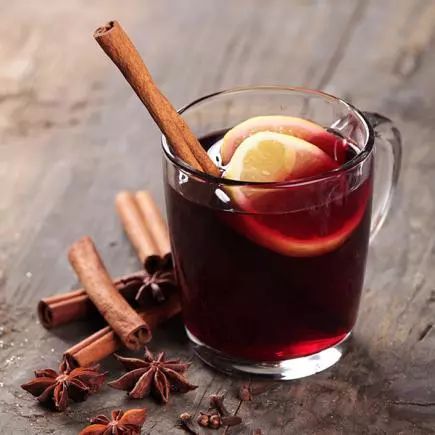 I guess we should start with this one. Mulled Wine is the most world famous warm cocktail. Many people drink it during Christmas time and now it is the indispensable drink for all Christmas markets. Moreover, it is very easy to make at home, so it suits perfectly to our list and should definitely be on the first place.
Ingredients: Red wine, oranges, cinnamon, star anise, cardamom pods, sugar/honey, brandy
Methods: Combine all ingredients in a saucepan, and heat just barely to a simmer over medium-high heat. (Be careful not to boil the mulled wine — you don't want to boil off the alcohol).  Reduce heat to medium-low, cover, and let the wine simmer for at least 15 minutes or up to 3 hours. Strain, and serve warm with your desired garnishes.
 P.S. there are too many different ways to make it and we offer one of them, so just try a new way all the time you make it – and you will find your perfect recipe.
2. Irish Coffee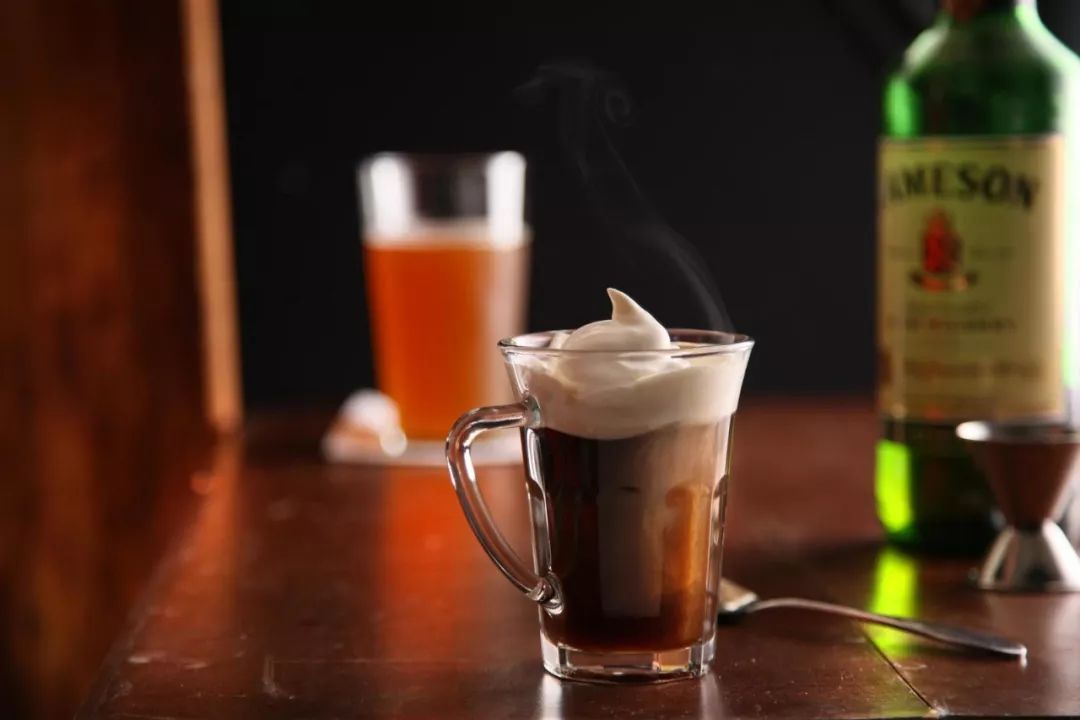 The other famous cocktail is based on coffee – you can find it in almost every coffee shop. Probably, many of you tried it but did you try to make it at home? For all coffee (and alcohol) lovers, here is a recipe:
Ingredients: A good shot of whiskey, a cup of coffee, a teaspoon of dark sugar, boiling water, double cream, coco to dust on top.
Method: Dissolve the sugar in a splash of boiling water to make a syrup. Stir the sugar and the whiskey together in a warm glass. Add the coffee. Lightly whip the double cream and pour over the back of a spoon into the glass. It should float on the top of the coffee, dust with coco.
3. Bailey's Hot Chocolate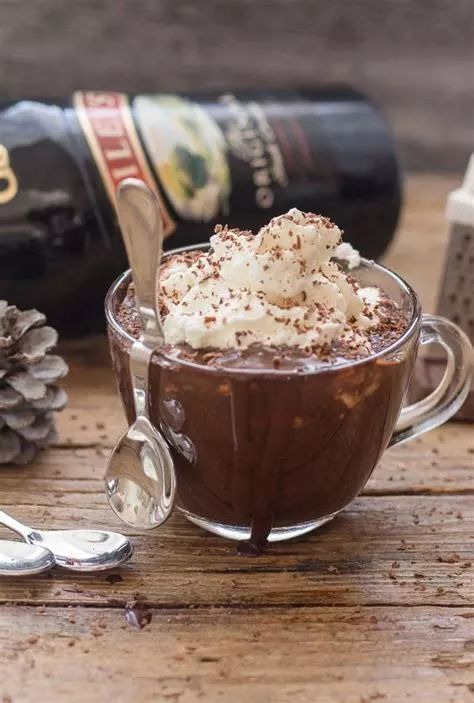 Continuing the coffee topic, here is an alternative to the Hot Chocolate, just add some Bailey's in it to let a small home party begin. Very sweet and delicious – will suit each girl's taste .
Ingredients: Milk, Coco, Sugar (or just use hot chocolate powder), Baileys, Chocolate sauce, Whipped cream.
Method: Heat your milk, stir in all the dry ingredients. Then pour into a cup and add Baileys to taste. Something between 1 part Baileys and 9 parts hot chocolate and 9 parts Baileys and 1 part hot chocolate should do it. Add chocolate sauce and whipped cream to taste.
4. Hot Toddy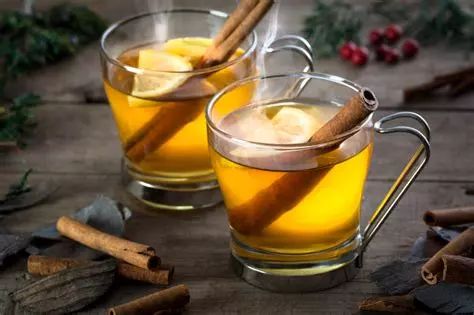 Let's change from coffee base to tea. Have you ever tried cocktails with this main ingredient? If not, there is a chance to change this situation – try to make Hot Toddy at home, let's see how:
Ingredients: Rum/brandy/whiskey (you choose, probably best not to use all three), a good-sized shot. A tablespoon of honey, a quarter of a lemon, a cup of black tea.
Method: Make a cup of tea and set it aside. Add alcohol, lemon juice and honey, mix well. Top up the glass with hot tea and stir.
5. Boozy Apple Cider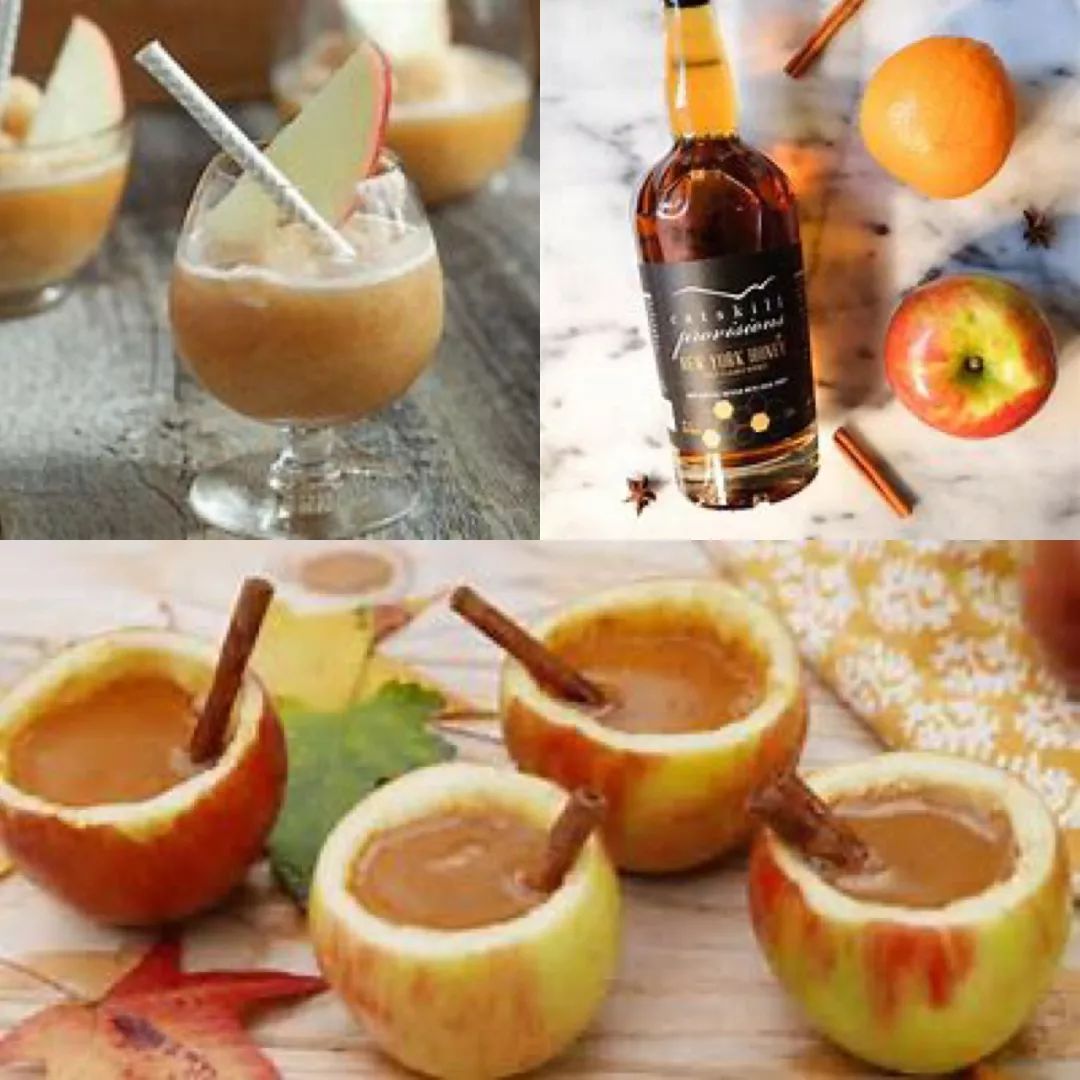 This drink is a perfect one for a small home party because you will definitely impress your guests – apples with removed flesh can serve as a glass (the other good thing is that you don't have to wash dishes after your friends leave). Nice idea, isn't it? Let's see how to make it.
Ingredients: 1 gal. apple cider, 1 1/2 c. whiskey, preferably Fireball, 1/2 c. Caramel, 3 cinnamon sticks, plus more for garnish, 8 apples, lemon juice for brushing.
Method: In a Crock-Pot, combine apple cider, whiskey, cinnamon sticks, and caramel. Cook on low until warmed through, about 2 to 3 hours. Make apple cups: Slice off the top of each apple. Use an apple corer to remove the inside of the apple until you're about 1/2″ from the bottom of the apple. Squeeze lemon juice into the apple cups to prevent apples from browning. Ladle hot cider into apple cups. Garnish with cinnamon sticks, and serve immediately.
6. Peppery Ginger Cider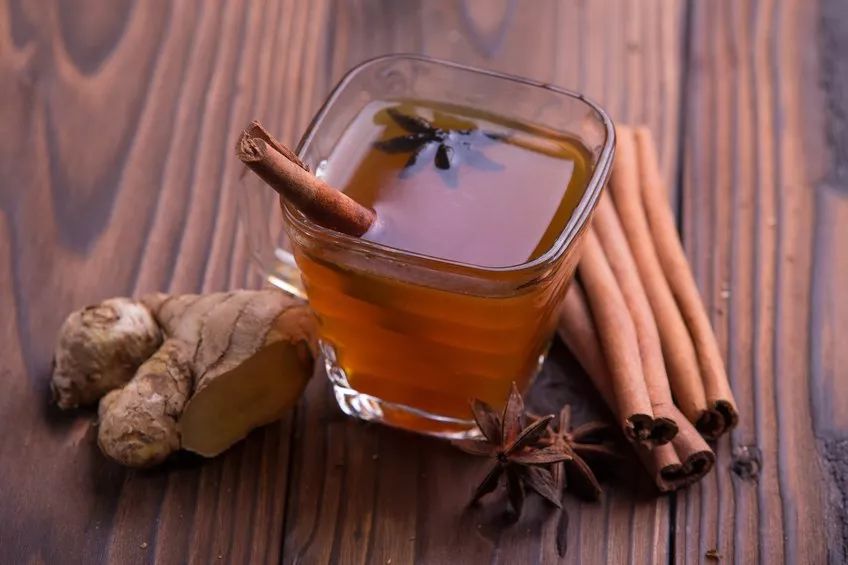 Here is another cider in this list – why not? Easy-making and tasty! You guys should try both of them and tell us which one do you prefer.
Ingredients: 8 ounces apple cider, 4 ounces bourbon, 3 ounces ginger liqueur, such as Domaine de Canton, Lemon juice to taste, 4 Luxardo cherries, Cracked black pepper
Method: Bring cider and bourbon to a simmer in small saucepan. Stir in ginger liqueur and add lemon juice to taste. Divide cherries between 2 heatproof glasses or mugs and pour in cider combination. Sprinkle with pepper and serve immediately.
7. Hot Buttered Rum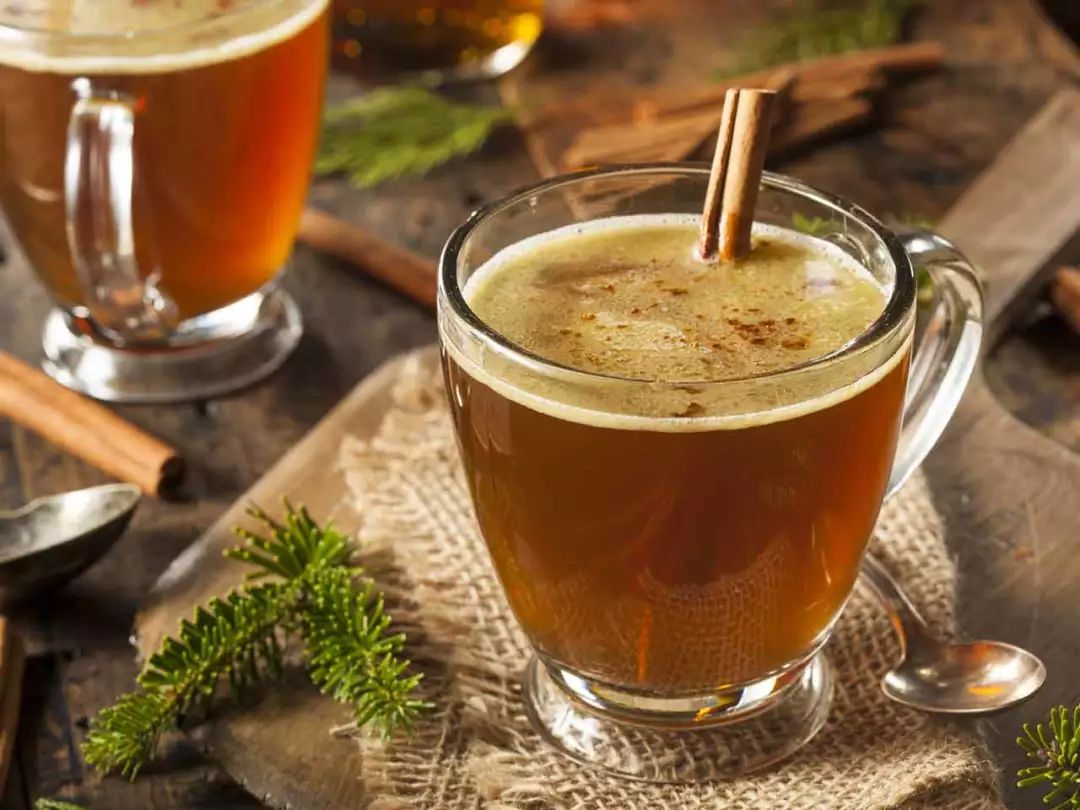 For those of you who prefer rum to other spirits, we also prepared a nice warm cocktail. Easy to make and delicious drink will warm you up during a cold Shenyang night.
Ingredients: 1 small slice of butter, 1 teaspoon brown sugar, a dash of ground cinnamon, a dash of ground nutmeg, a dash of ground allspice, a splash of vanilla extract, healthy splash of dark rum, hot water to top up the mug.
Method: Place the butter, sugar, and spices into the bottom of an Irish coffee glass or mug and mix it well. Pour in the rum and top it with hot water. Stir. Make sure that your water is hot, but not boiling. If the water is too hot it can ruin the flavors of the drink.
Adjust the spices to suit your taste. Some people prefer more cinnamon or nutmeg while others don't enjoy allspice, so be sure to customize it.
8. Spiked Coconut Vanilla Steamer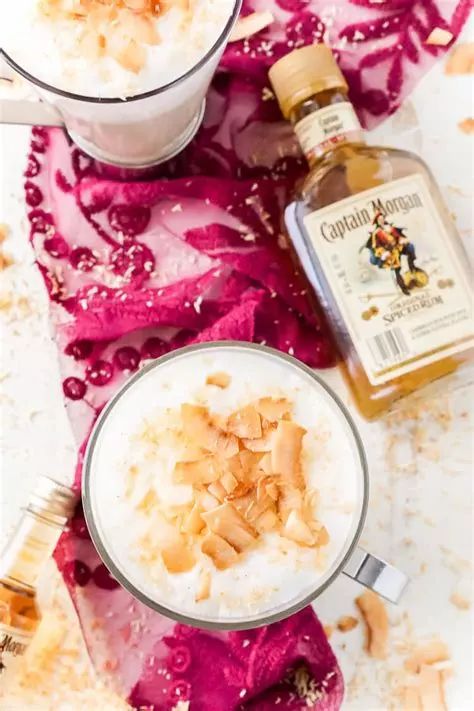 This cocktail is one of the coziest winter drinks with, as you may have noticed from the name, includes coconut and vanilla. Let's see what do you need for this one
 Ingredients: 3 oz. Spiced rum,1 1/2 whole milk, 1/2 cup canned coconut milk, 1 1/2 tsp coconut extract, 1 vanilla bean, toasted coconut for garnish, you will also need a frother.
Method: Add 1 1/2 ounces of spiced rum to each of two mugs, add milk, coconut milk, and coconut extract to a small pot, slice vanilla bean lengthwise, scrape the paste out of the bean and add both paste and bean to the milk, bring to a simmer over medium heat and simmer for 2 to 3 minutes, remove from heat and remove the vanilla bean, use a frother to froth the milk for 1 minute, evenly pour milk mixture into the mugs, holding back the foam with a spoon and then spoofing it onto the top of the liquid, garnish with toasted coconut and serve immediately.
9. Hot Honey Lemon with Vodka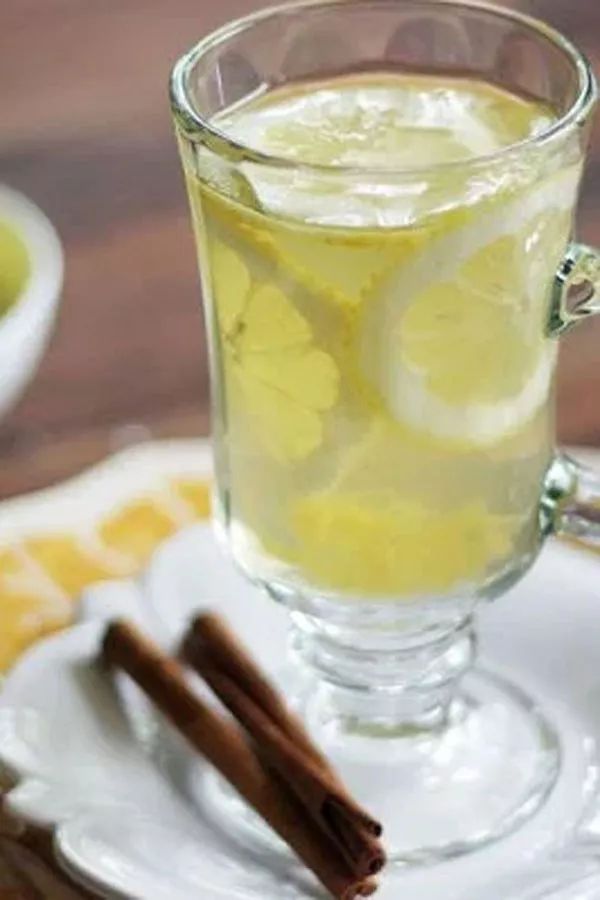 And what about vodka for cold days? Really warming spirit, as all Russians would say. Check out this cocktail to make at home and impress your friends.
Ingredients: 1/2 cup honey (or agave), 4 cups water, 1 lemon zested and sliced, 1-2 cinnamon sticks, Vodka to taste, optional: fresh ginger or other spices to taste.
Method: Bring honey, lemon zest strips, one cinnamon stick, and water to a medium pot. Stir to combine, cover, and bring to a simmer. Simmer 30-45 minutes, or until the cinnamon flavor fully infuses the drink. Pour the resulting tea into glass mugs with lemon slices. The lemon slices not only punch up the flavor and disinfecting qualities, but they also make the drink pretty! Add vodka to taste.
Pro tip: Sip the concoction through the cinnamon stick for an extra kick.
10. Hot Gin Punch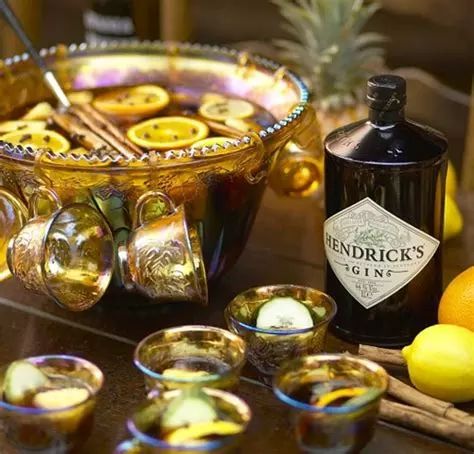 And, of course, we couldn't forget about gin lovers – for them a special hot cocktail for a small company of 4-5 people (with our recipe you'll get around 1 liter of punch)
Ingredients: 1 lemon juice and zest, 2 lemons thinly sliced any pips removed, 300ml gin (Gordon's is recommended – Hendrick's and Tanqueray also), 600ml water (bottled still mineral water), 200ml sherry (dark,'cream' sherry), 150g brown sugar (demerara)
Method: Into a saucepan add the sugar and the grated zest of one lemon. Cut the zested lemon in half and add all the squeezed juice over the sugar. Pour over the water and bring up to a simmer, stir to dissolve the sugar into the lemon juice and water. Let this steam away for five minutes, then add in the gin and sherry. Slowly bring the Hot Gin Punch up to a boil, so it is steaming hot, then after a few minutes turn the heat off, add in the thinly sliced lemons, stir, carefully taste, and add in more sugar or water (to individual taste) if it is needed, then allow to cool for two or three minutes. Pour into heatproof glasses, adding in a lemon slice or two, and serve. Drink warm.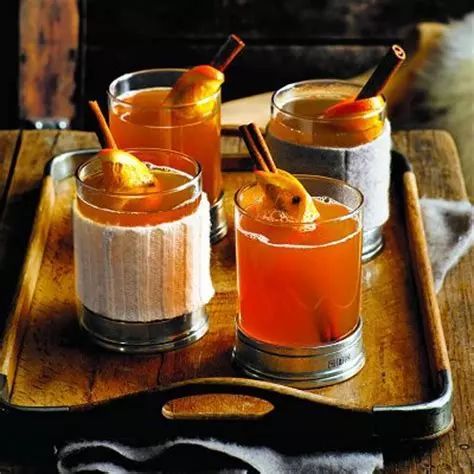 Here is our Top-10 list of hot alcohol cocktails which you can easily make at home. Of course, there are thousands of variants how to make these cocktails, we give you easiest (to our point of view) recipes which you can adjust according to your own taste. Which hot cocktails are your favorite? Share your recipes in our comments – maybe someone is searching exactly for this one, who knows.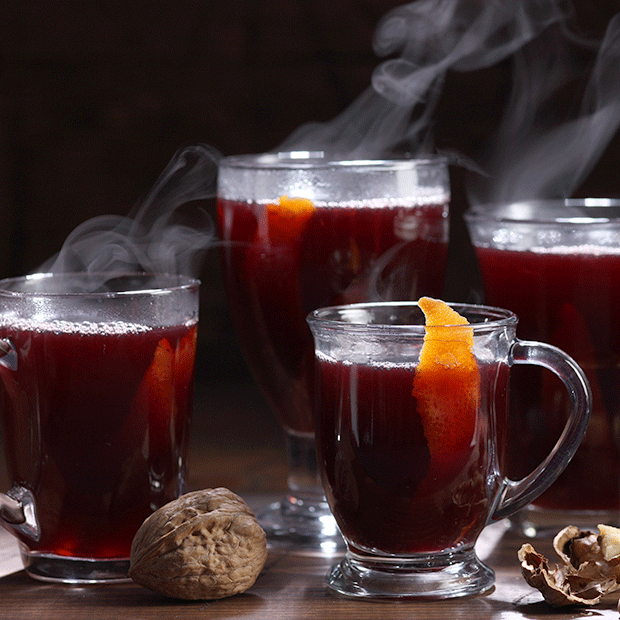 Share any of our articles with your friends and follow us on our social media platforms.
By Inna Mironova